Popis
Scientific T-shirt in a blue design depicting an atom. An atom is the smallest part of a chemical element that carries certain properties. An atom consists of a nucleus and a shell containing protons, neutrons and electrons. Order this atom t-shirt, which consists of a distinctive white symbol of this particle.
Men's T-shirt Imperial
High quality Men's T-shirt with short sleeves and a round neckline. The cotton material provides comfortable wearing. The T-shirt trunk is without side seams, so its shape stability is ensured. Excellent quality and price ratio. The producer of these T-shirts is a member of Fair Wear Foundation, which aims to improve working conditions of the textile industry of China, Bangladesh, and India.
Material: 100% cotton (190g/m2)
Size chart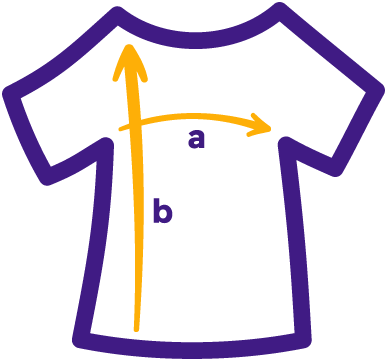 | Size | Width (a) | Length (b) |
| --- | --- | --- |
| S | 50 cm | 69 cm |
| M | 53 cm | 72 cm |
| L | 56 cm | 74 cm |
| XL | 59 cm | 76 cm |
| XXL | 62 cm | 78 cm |
| 3XL | 64 cm | 79 cm |
| 4XL | 68 cm | 82 cm |
| 5XL | 71 cm | 83 cm |